Mola Mucho: MadrEAT Street Food Market
MadrEAT Street Food Market is the ultimate delight that brings together locals, foodies, creatives to enjoy the diversity Madrid has to offer. The perfect way to support small business while still getting your grub on, MadrEAT happens once a month to bring you the best of all worlds. We checked out this food market to see what all the hype was about and it definitely exceeded our expectations.
I took some time off for a quiet weekend at home when my friend Clara asked if I wanted to join her at at 'MadrEAT', a food truck festival. I'm usually good for trying new things, as long as it's not too crazy or against the law, so I got dressed and headed to AZCA, a shopping center near Santiago Bernabeu stadium.
I knew we were in the right place, when I heard the music and saw crowds of people heading to the entrance. Also, the huge 'MadrEAT' banner was an indication that we were going the right way. When we entered, we saw trucks with all kinds of food. However, we came looking for one thing: TACOS. Yes, tacos.
I have had a bit of difficulty finding Mexican food that really satisfied me. Some places have come close, but it's just not the same. That's why I was so excited when we got to the Tepic Food truck. The first thing I read was tacos al pastor (pineapple pork) and tingas de pollo (shredded chicken marinated in awesome sauce). Clara and I ordered one of each, so we could try both. The chicken tingas tacos were the winner, even without the toppings that came with the tacos al pastor. We liked our tacos so much, we actually returned and bought more. I noticed earlier that the pork was freshly cut for each order on the side of the truck.
We wandered around the park, almost overwhelmed by the amount of trucks. There were a lot we skipped because we just weren't in the mood for burgers or hot dogs. I had enough of those in the States so I wasn't really in the mood to eat them at a festival. Plus, I have a rule: If I can make it at home, I don't like to pay for it. Maybe it's a New Orleans thing. Maybe not. That's just how I roll.
In the back of the park, we found another gem: Diwali Restaurant Hindu had a great menu: Vegetable Samosas (Think fried dumplings filled with potatoes, veggies and spices), Chicken Tikka Masala (chicken cooked tandoori style, marinated in spices and yogurt) with rice, and Murg Biryani (A mixture of herbs, spices, chicken, and rice). Even though I've never met a samosa I didn't like, I skipped them this time, I ordered the Chicken Tikka Masala and Clara went for the Biryani. I swear: This tent was heaven on a plate! I loved my dish, as well as the spicy sauces they had to go along with each plate. That's right, y'all: Hot sauces that were actually HOT. I liked both dishes, but Clara and I agreed that the Biryani was the clear winner out of both choices.
We walked around the park for a while, admiring the tarts, cupcakes, and other treats we found. I'm not a big dessert person, but it was cool to see things that reminded me of home (tarta de zanahoria and tarta de manzana, challaaaaaah!). This was for one weekend in March, but don't despair if you missed this round: There will be more sessions of 'MadrEAT' in April, May, and June. Be sure to check their website for dates, times, and location information. Happy Eating!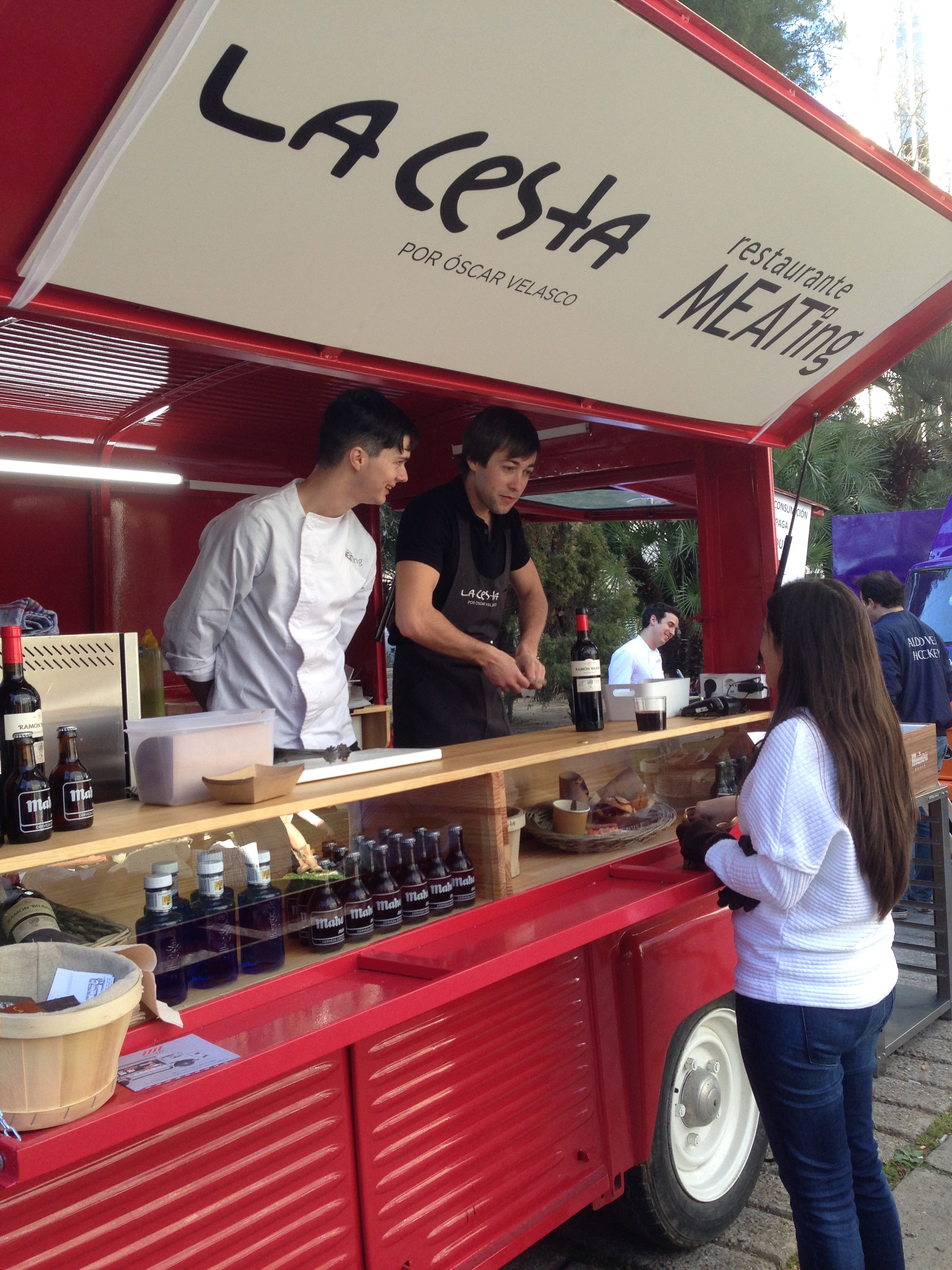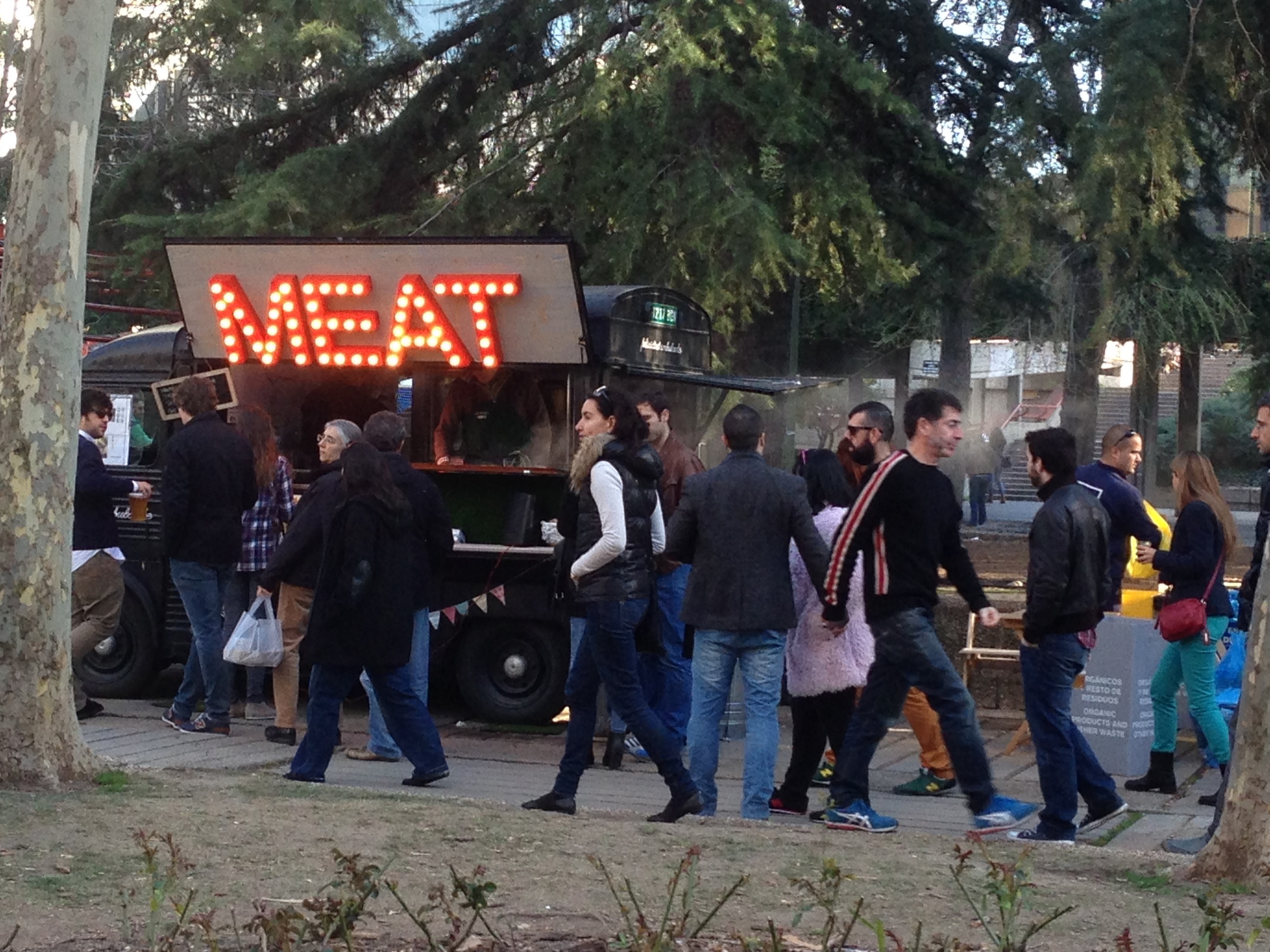 Khephra is a New Orleans native, who re-located to Madrid, Spain at the absolute end of 2013. Some of her favorite things are: food, Theatre, yoga, tinto de verano, and traveling through the country she's only seen in dreams. She can usually be found wandering through the streets of Madrid [because she's lost... again], or at an intercambio. When she's not accidentally cursing at old ladies in Castellano, or wading neck-deep into the dreaded dating pool, she spends her free time working to be a better writer, teacher, and dancer.